Finger Swingin'
octobre 2011
Fabien Degryse - guitare acoustique
1 - Bock to Bock (B. Montgomery)
2 - Fly Me to the Moon (B. Howard)
3 - The Night Has a Thousand Eyes (J. Brainin, B. Bernier)
4 - (In my) Solitude (D. Ellington, E. De Lange, J. Mills)
5 - All the Things You Are (J. Kern, O. Hammerstein)
6 - Do Nothing Till You Hear From Me (D. Ellington, B. Russel)
7 - All Blues (M. Davis)
8 - If I Should Lose You (R. Rainger, L. Robin)
9 - Lucky Southern (K. Jarrett)
10 - Anthropology (Ch. Parker, D. Gillespie)
11 - Seven Steps to Heaven (V. Feldman, M. Davis)
12 - Little One I'll Miss You (B. Green, A. Lincoln)
Midnight Muse records MMr1102
---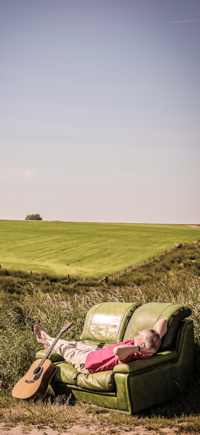 "Le thème – la mélodie – reste l'ingrédient primordial, le lieu connu, confortable. L'intérêt réside dans le traitement.
Et en matière de traitement, écoutez bien Fabien Degryse... Il y a du suspense – quel petit tour va-t-il nous jouer maintenant ? -, il y a de l'action, il y a de l'émotion..., mais il y a surtout une voix, un son.
Se faire un nom, dans le jazz, comme ailleurs, n'est pas chose aisée, se faire un son l'est encore beaucoup moins. Rude bataille pour un musicien. Bataille gagnée.
Mais on oublierait presque l'essentiel, ce que nous désigne Degryse du manche de sa guitare : le feu, c'est à dire la chaleur, le swing... it don't mean a thing if it ain't got that swing, dit encore le Duke, and yeah, Degryse's got it, and ça, ça veut dire quelque chose, comme le titre... Finger swingin'..."
Lucien Putz, www.blog-a-part.eu, 11 mars 2013